Share any content or presentation you'd like, provide it with a custom message, and manage its sharing options. This will make sure to impress your customers when viewing the shared materials from the Digital Sales Room
➡️ This article will guide you step-by-step how to share your content.
---

💡 For more information:
Step 1: Select content you'd like to share


Option 1: Underneath a File/Folder thumbnail



Click the 3 dots underneath a file or folder
Click Share

Option 2: In a file



Open a file
In the top right corner, click Share

Option 3: A presentation (How do I create a Presentation?)



Open the side menu and click 'My Presentations'
Click the 3 dots next to a presentation
Click Share OR Combine and share as PDF

Option 4: Multi-select



Select multiple files by clicking the checkbox at the top left corner of the file
💡 You can select files from different folders
In the top right corner of the App: click Selected
Tip: Click Content to manage your selected content (remove / organize)
Click Share

Continue to Step 2: Manage your share
💡 By default you are able to share files, but not folders. As an Admin, learn more on how to manage files and folder sharing permissions:
---

Step 2: Manage your share


How to manage files in a share

Adding more files to your share: Click '+ Add files' > Navigate the account and add more materials by clicking the 'Plus'-icon in the top left corner of a file/folder > Click 'Done' in the bottom right corner when all files have been selected.

Removing files from your share: Click the 'Trashbin'-icon next to the file.
Organize your files: Select and hold a file and drag it to the right spot.
➡️ This will determine the file order within the Digital Sales Room

Downloading options: Toggle the 'downloadable'-button on/off and choose the files that can be downloaded by the share recipient(s)


How to personalize a share


Add Recipients. Recipients you've added will receive an email with the DSR share link.
💡Can't see the 'Recipients'-field yet? Click here for more information.
Add your topic in the 'Subject'-field
Write a personalized message in the 'message'-field
➡️ Templates: You can quickly add previously written messages by clicking the 'Use previous message'-button
How to set your share preferences

Set PIN code: Set a pin if the files you are sharing are confidential and you'd like to add an extra layer of security. You can provide the recipient with the PIN via any communication channel of your choice.

Set Expiration date: Choose the date you would like this share to expire
➡️ By default this is set to 6 months (Request a custom default expiration date)
➡️ Keep disabled if you don't want this share to expire

Ask for email: If you ask for a recipients email, you will receive notifications on share tracking activity. You will also find out who has been viewing your shared material.



Continue to step 3: Share


---

Step 3: Share



Preview


Now that you've selected and organized all materials you'd like to share, you are able to see a preview, how it will look for the recipient(s), in the Digital Sales Room

Copy link

This will Copy the Share link, that leads to the Digital Sales Room, to your clipboard. you can paste this to your email, social media, SMS or other communication channels.

Share (Save)
You haven't added any recipients: This will save the share. You can access/edit the share at any time from 'My Shares'.
If you don't have the 'recipients'-field available:
💡 The 'Recipients'-field:
Introduced with Showell Version 9.5, the 'Recipients'-field makes it more convenient to send your shares straight to your customers, skipping the additional steps to share from a default email app.
Emails are send from noreply@showellapp.com and contain your subject, message and share link to the Digital Sales Room.
With the 'Recipients'-field activated, the option to share straight from your default email app will not be available.
💡 You can still copy/paste the share link/URL to your email app.
Please contact Showell Support, if you'd like to have this feature ON/OFF.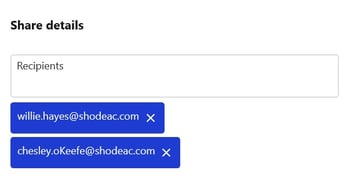 💡 If you'd like to add an extra layer of protection to your shared PDF content: Make sure the PDF itself has "prevent content copying".