Get notified by email when a recipient has opened, viewed or downloaded your shared material!
➡️We've all been there: It took a lot of effort and time to sent your files across via email... and then you don't even know if the recipient(s) opened them!
This is a problem of the past with Showell!
Receive instant notifications in your email when your prospects have opened the content within your share. By default this option is ON.
Don't want to receive notifications?


Even with notifications turned off, you can still check all the analytics of your share: Including who, when, how long and what was viewed of your share, using 'My Shares' within the Showell App
💡Learn more on:
My Shares: email notifications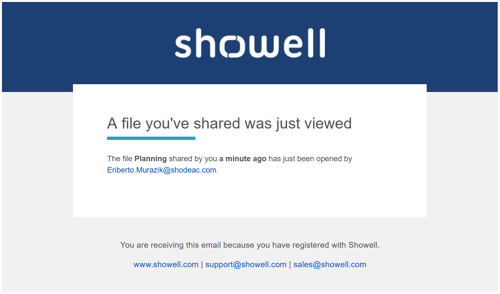 When you have sent out your share, one of the most valuable information is to simply know if the receiver has opened the documents. This gives insight on how interested the prospect is. Therefor you will receive an instant email when a document has been viewed.
When creating a share, We recommend to ask for email. This will automatically tell you WHO has opened the document.


If you choose not to ask for email, you will still receive a notification.
The email is send from noreply@showellapp.com. In rare cases it can happen that the notification email goes to your spam/trash folder.
💡 What is Share Tracking?
When a customer opens the Digital Sales Room by a share link you provided, they will be prompted to provide an email address before viewing the content
This valuable information will give you insight on how interested the prospect is by creating share analytics. This includes: who viewed your share, when they viewed it and what or how long files and individual pages have been viewed
This feature is ON by default for any regular or advanced share
---

How to turn notifications ON/OFF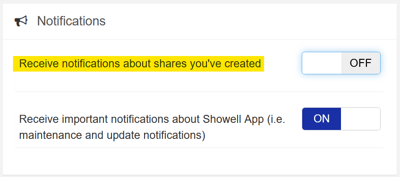 In order to disable the notifications, you need access to Showell Admin. If this is not the case, please contact one of your account administrators to turn of the notification):
Open Showell Admin
Click your name in the top right corner and choose My Settings
On the right side of the page you will find the Notifications tab
Toggle 'Receive notifications about shares you've created' to OFF