Here you'll find a list on our newest features. The list is updated every time a new feature has been introduced or an existing one has been significantly updated or improved.
September 2021:
"Trash" feature in Showell Admin
If you delete a file in Showell Admin your file will be moved to our trash can (located in under Files in the top menu).
This file will stay there for 60 days where you can choose to either restore it back or then permanently delete it.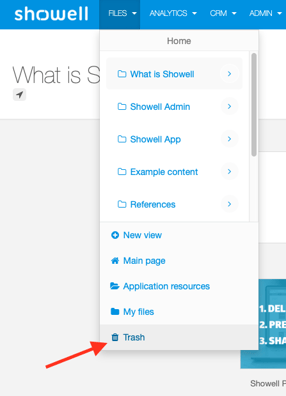 Direct link to Showell Admin with auto-login functionality
This means you can access Showell Admin straight from the side menu in Showell App!
New 3D Space feature available for testing ("beta" feature)
This new space allows you to try out interactive 3D animations and even change backgrounds!

In Showell Admin:

Add your files in 3D file format (for example .glb)
Then add any extra backgrounds (we recommend placing backgrounds in a folder that is located in Application Resources)
---
June 2021:
Shares can be edited:

You can now go back to an already sent share and make changes! For example:

Remove/add contents
Change/add the expiration date
Change/add a pin code
*Give or remove access to download files from Share Center
Add a subject or message
Toggle "ask for email" (tracking) ON or OFF
New Account Translations (paid extra feature):
Administrators can now translate the account contents!
This allows users to view the contents in their preferred language
*Downloading of shared files can be blocked

Keep your share more private
Stop contents form being able to be edited
Folder can now be sorted based on the last modification date
This will help to know which files are the very latest material!
The "New" badge
Now indicates if a file in folder OR one of its sub folders have changed
Application screen size can be changed on MacOS and on iOS (Split View)
You can use Split View with iPad Pro, iPad (5th generation and later), iPad Air 2 and later, or iPad mini 4 and later.
Improved My Files+ features

Edit e.g. pptx files while viewing the document (Showroom) from Top menu > Tools > Edit (Windows Showell App feature)
---
April 2021:
Microsoft documents are editable (Windows Showell App)
Completely renewed Office Editor: our App now talks with the major Office Apps on Windows, including Word, Excel and PowerPoint. This enables a fluent editing experience.
New File Browser method is used with My Files+ and the new Office Editor:
Allowing you to easily browse, move and save files and create folders in your My Files area.
Silent updates:
The update screen now pops up only for the first time the contents are updated.
---
Chatbot in Admin Panel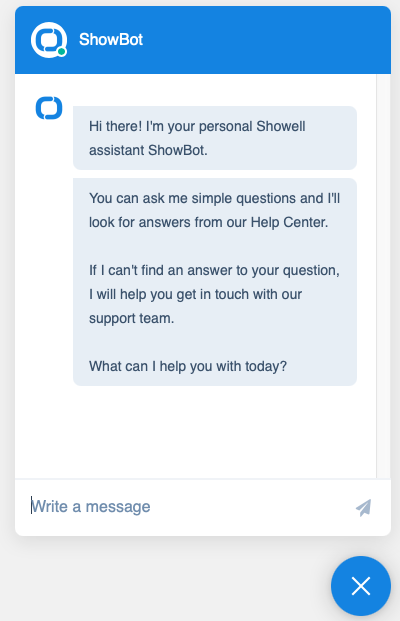 "Showbot" is our new Showell member who can help you find answers from our Help Center archives OR let you submit an issue to our Support team!
New folder sorting options (Showell App)
New folder views selectable: large thumbnails, small thumbnails and list view!
Shares can be removed (Showell App)
Remove shares in Showell App by selecting the 3 dots on a share and Remove
Note: If you remove a share, you won't see its analytics from the App anymore - but data will remain Admin Panels' share analytics.
Windows Showell App (update)
A user can download and save files from Showell app to their Windows' Downloads-folder.
Share Center (update)
A direct download option will be shown for documents that have "Share in original format" enabled and cannot be properly shown in the Share Center (for instance Excel files or 3D model files).
My Shares + Analytics
My shares is a menu located on the side menu. You can share content straight from the menu, or you can view and re-share the shares you've made before. Add a custom message to accompany your share on Share Center and even view recipient activity!
User Invitations
Inviting users to your accounts is finally in the hands of account administrators! Perfect for mass-inviting, not just internal, but also external users such as dealers, distributors, and other 3rd party users. Safely control who, and how many people can join and from which domains. See the full article at:
Sharing Experience Redefined
Showell 8 has brought along exciting improvements to the content sharing experience. My Shares and advanced sharing options allow you to further customize your share and the Share Center ensures that your customer gets the best experience while interacting with your content.

Read more from these articles:
Augmented Reality
AR Support lets you see and explore 3D objects in real-world surroundings without leaving Showell. See the full article at:
New Analytics
The new analytics service offers more advanced analytics than the previous feature. Now you can dive deeper into your content usage, user, and group activity. See the full article at:
Content Share Tracking
You will be notified via email whenever a customer downloads a file you've shared with them via Showell. See the full articles at: