It is possible to connect your Microsoft 365 (SharePoint/OneDrive/TeamsDrive) with Showell and sync your selected content!
➕ If you'd like to know more about Showell's Microsoft 365 integration:
Note:
Microsoft 365 integrations includes the possibility to synchronize your SharePoint, OneDrive or TeamsDrive.
---

👍Benefits of the Microsoft 365 integration
Centralize and distribute sales content
Store and manage the whole sales collateral in Microsoft 365 content repository and deliver up-to-date sales content to salespeoples' Showell automatically.
Smoother sales meetings
Microsoft 365 is designed for back-office and administrative work, whereas Showell is designed for customer-facing sales work and to be used in any meeting: face-to-face or online.
Find, present and share relevant content - even offline
365 lacks capabilities to quickly search and present sales content in a meeting. Showell is lightning fast, works offline and any presentation opens in a second - without having to leave Showell.
Unlock the full potential of your content
Microsoft 365 lacks the capability to easily tailor a presentation from pre-existing content: to select, combine and share a presentation that matches customer's needs. With Showell you can easily select individual slides or pages and entire documents and combine them into one presentation - and share it with your customer.
Impress your salespeople and customers with your brand
365 doesn't have a branded interface and it's structure is designed for internal use. Showell is a professional looking sales tool with user experience that is tailored to match your brand and sales process.
Easy distribution of sales and marketing material
Microsoft 365 is not the best solution when you need to bring in external sales people (dealers, partners etc.) Your own salespeople, dealers and partners can all access your Showell account - and see exactly what you want them to see.
---

💡Before you get started
Create a separate user in your Microsoft 365 that is used for managing the Showell integration. These account credentials can be given to all those in your team to manage the integration.
The name of the user account can be for example: 'Company name_Admin'.

Benefits of having a separate user account:


A personal account can be used, but it is better to create a unique user for the integration because if the integration needs to be disabled it can be done easily by just removing the integration user and with this, it also avoids cases where the user's personal files are moved to the Showell by accidentally
Add read privileges to the this newly created user. (this ensures that this user isn't able to modify the content and will only act as a bridge between Microsoft 365 and Showell.
Note: If it's not possible to limit the user's read privileges in Azure/SharePoint, Showell can make these limitations on our end. Please contact Showell Support with your request and we will help you further
---

➡️ This article will guide you on:
How to authorize the connection between Microsoft 365 and Showell


Go to Showell Admin
From the top menu, select: Admin > SharePoint/OneDrive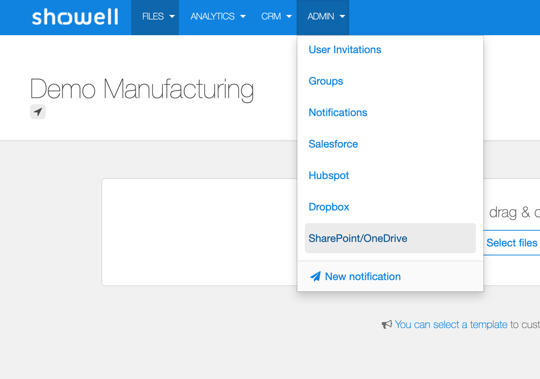 Begin authorization by selecting "Authorize by signing in to SharePoint/OneDrive"
Login with your newly created Microsoft 365 user's credentials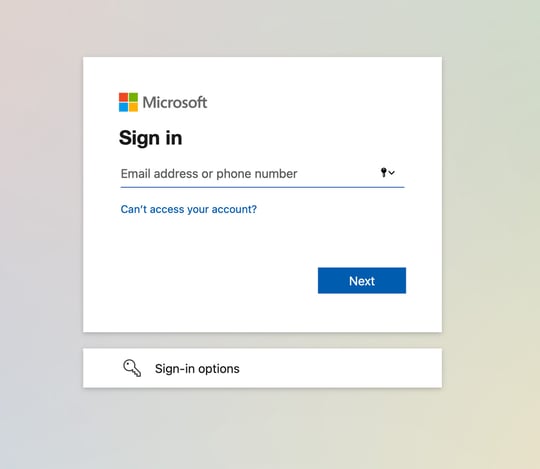 ---

Start linking your content
After a successful MS login, you can start linking Microsoft 365 to Showell.
When connecting your first folder, you can click '➕Connect first folder'
When connecting a folder later on, click '➕Connect folder'
A pop-up screen will appear to connect your Microsoft 365 folder to Showell


Left panel: Choose the Microsoft 365 folder from SharePoint, OneDrive or TeamsDrive you want to connect
Right panel: Choose the target destination for this folder in your Showell directory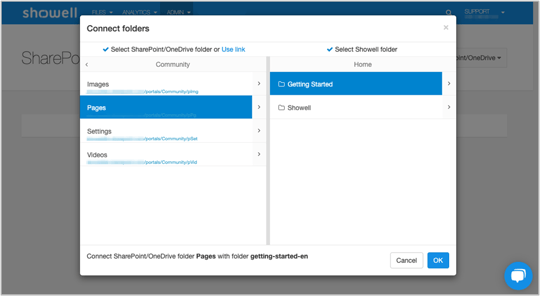 Tip:
By clicking the 'Drop-down menu'-button located on the right side of your connected folder, you are able to:
Remove the connection
Disable the connection; the folder is still connected but will not synchronize.
Fetch new or changed files; this will immediately synchronize the folder content.
Note: the Microsoft 365 integration is automatically synced every hour.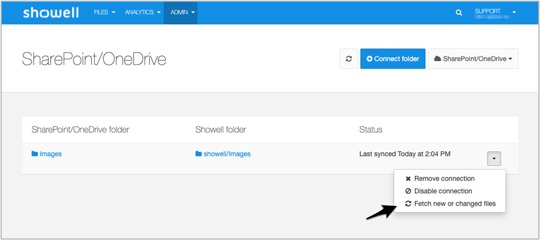 ---


How to enable keyword and/or language support with SharePoint
Added keywords (tags) and/or languages in SharePoint will also be synced in Showell. In order to enable this, it is important to know the following information:
The Keywords and/or language fields in SharePoint are custom fields.

Create the custom field(s) within SharePoint and give it a name of choice
In order to configure and activate the Keyword and/or language support on Showell's side: Please provide the name of this/these custom field(s) to your Showell contact person or Showell Support.

There can be only one field for Keywords (tags): It is not possible to merge keywords from multiple fields.
There can be only one field for languages: It is not possible to merge languages from multiple fields.
By default, keywords and languages are transformed from MixedCase to lowercase. This can be changed on request by reaching out to your Showell contact person or Showell Support.