It is possible to connect your Microsoft 365 (SharePoint/OneDrive/TeamsDrive) with Showell and sync your selected content!
➡️Microsoft 365 integration is a premium feature.
If you'd like us to activate this feature:
Note: Microsoft 365 integrations includes the possibility to synchronize your SharePoint, OneDrive and TeamsDrive.
---

💡Before you get started
Create a separate user in your Microsoft 365 that is used for managing the Showell integration. These account credentials can be given to all those in your team to manage the integration.
The name of the user account can be for example: 'Company name_Admin'.

Benefits of having a separate user account:


A personal account can be used, but it is better to create a unique user for the integration because if the integration needs to be disabled it can be done easily by just removing the integration user and with this, it also avoids cases where the user's personal files are moved to the Showell by accidentally
Add read privileges to the this newly created user. (this ensures that this user isn't able to modify the content and will only act as a bridge between Microsoft 365 and Showell.
Note: If it's not possible to limit the user's read privileges in Azure/SharePoint, Showell can make these limitations on our end. Please contact Showell Support with your request and we will help you further
How to authorize the connection between Microsoft 365 and Showell


Go to Showell Admin
From the top menu, select: Admin > SharePoint/OneDrive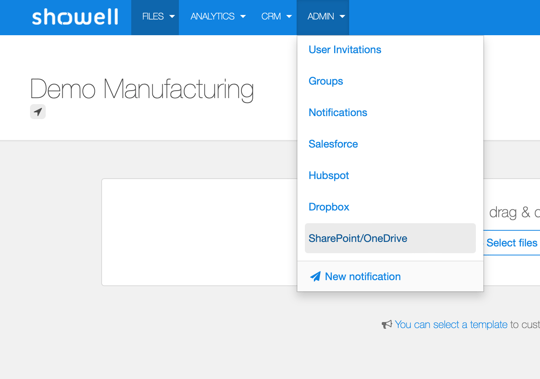 Begin authorization by selecting "Authorize by signing in to SharePoint/OneDrive"

Login with your newly created Microsoft 365 user's credentials
Start linking your content
After a successful MS login, you can start linking Microsoft 365 to Showell.
When connecting your first folder, you can click '➕Connect first folder'

When connecting a folder later on, click '➕Connect folder'

A pop-up screen will appear to connect your Microsoft 365 folder to Showell


Left panel: Choose the Microsoft 365 folder from SharePoint, OneDrive or TeamsDrive you want to connect
Right panel: Choose the target destination for this folder in your Showell directory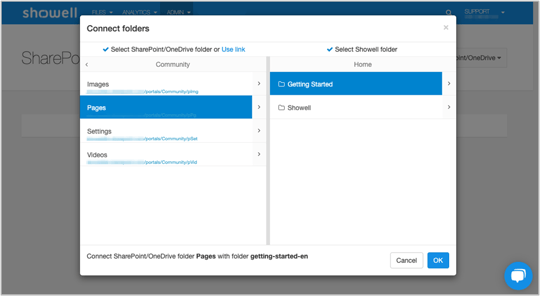 Tip:
By clicking the 'Drop-down menu'-button located on the right side of your connected folder, you are able to:
Remove the connection
Disable the connection; the folder is still connected but will not synchronize.
Fetch new or changed files; this will immediately synchronize the folder content.
Note: the Microsoft 365 integration is automatically synced every hour.