Showell is a complete sales extension to Microsoft 365. The plug-and-play content synchronization is activated in minutes, no integrations needed!
What does the extension enable?
Centralize and distribute sales content
Store and manage the whole sales collateral in Microsoft 365 content repository and deliver up-to-date sales content to salespeoples' Showell automatically.
Smoother sales meetings
Microsoft 365 is designed for back-office and administrative work, whereas Showell is designed for customer-facing sales work and to be used in any meeting: face-to-face or online.
Find, present and share relevant content - even offline
365 lacks capabilities to quickly search and present sales content in a meeting. Showell is lightning fast, works offline and any presentation opens in a second - without having to leave Showell.
Unlock the full potential of your content
Microsoft 365 lacks the capability to easily tailor a presentation from pre-existing content: to select, combine and share a presentation that matches customer's needs. With Showell you can easily select individual slides or pages and entire documents and combine them into one presentation - and share it with your customer.
Impress your salespeople and customers with your brand
365 doesn't have a branded interface and it's structure is designed for internal use. Showell is a professional looking sales tool with user experience that is tailored to match your brand and sales process.
Easy distribution of sales and marketing material
Microsoft 365 is not the best solution when you need to bring in external sales people (dealers, partners etc.) Your own salespeople, dealers and partners can all access your Showell account - and see exactly what you want them to see
How to get the extension up and running
Get in touch with your contact person or send us an email at support@showell.com
We activate the extension to your account
Log in to Showell Admin and authorize Showell to connect with MS Drive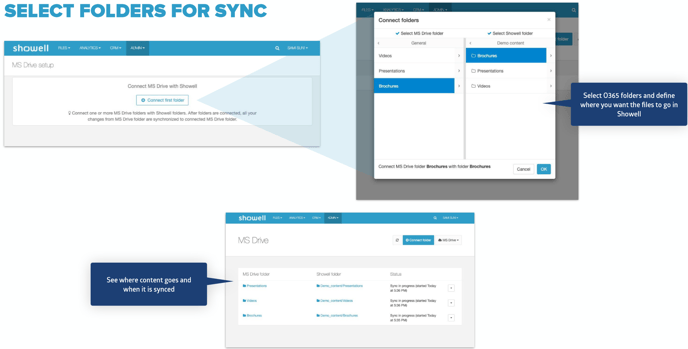 Select the Microsoft 365 folders you want to sync with Showell folders
Access the synced content via Admin and Showell App
Get in touch! If you want more information about the extension, send us an email at support@showell.com