Share Center is a secure and branded online webpage for accessing presentations and documents that you've shared. Recipients do not need to download shared content to their device for viewing anymore: it's all online and ready for streaming.
Sharing Experience Redefined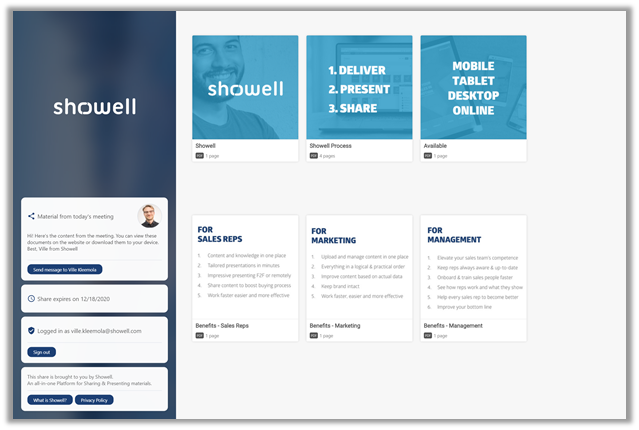 Key Features
Write a personalized message to a recipient
Use a secure PIN code when sharing
Set an expiration date
Option to ask for a recipients email (for tracking)
Open, browse and zoom on content within the Share Center (just like the App)
Recipients can easily message the sender
Track how prospects react to shared content and what content sparks their interest
Share Center page "Language"
The language displayed on Share Center is determined by the recipients own browser settings.
For example: Text displayed on the left menu bar and notifications
(Text on the shared file's themselves will remain the same as the original)
Note: More Share Center and sharing features, such as the possibility to prevent downloading of shared content, will be introduced in upcoming updates.