The Digital Sales Room is a secure and custom branded webpage for your customers to view and interact with content that you've shared via Showell. Your shared content is all accessible online and ready to impact the receiver of your share.
Personalize the Digital Sales Room
To maintain a professional appearance and ensure that your prospects can easily reach you, it is recommended to update your profile picture and contact information when using the Digital Sales Room. This room is automatically created with every share you create, and by personalizing it, you enhance your credibility and make it easier for potential customers to connect with you.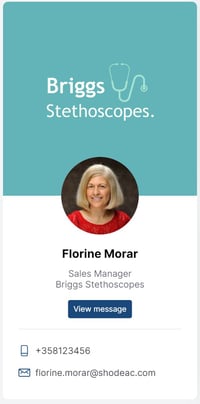 The following information will be displayed in the Digital Sales Room:
Company (Showell Account name)
Name
Title
Email
Mobile Number
Profile Picture
Note: Currently Name, Email and Title can only be changed from within Showell Admin. If you do not have access, please contact your Showell Administrator or Showell Support to make the changes for you. (Coming soon to the Showell App)


---

Customize the Digital Sales Room
Using your company logo and colors, along with a custom domain link, will create a familiar and trustworthy appearance for your prospects when they visit the Digital Sales Room.
Prospects also have the convenience of easily switching between light and dark mode in the Digital Sales Room, based on their own personal preference.
---

Share, Update and Analyze your Digital Sales Room contents

Share your Contents
Easily share a wide range of content, including presentations, documents, images, 3D files, and folders with one or multiple recipients. You have the flexibility to create as many shares as you need, without any limitations. These shared materials will be neatly displayed in your Digital Sales Rooms.
Consider the following, while you create the share, as this affects the Digital Sales Room:
Add a subject and message: Adding a personalized message will help you to engage with the share receivers
Set an expiration date: Make sure your share, and so also the Digital Sales Room, is only available for a set period of time. This comes in handy with for example time limited deals
Set a PIN-code: Sensitive materials? set a PIN-code for an extra layer of protection
Ask for email: When the share recipient opens the Digital Sales Room, they will be prompted to provide their email address. This comes in handy, as you'll be able to know who visited your Room, and what they viewed.
Download options: You can choose what materials can be downloaded from the Digital Sales Room
Drag and drop your content in the right order: To ensure that the recipients view the shared materials in the correct sequence, you can easily arrange them in the desired order while creating the share. This order will be maintained in the Digital Sales Room, providing a seamless and organized experience for your prospects.


Update your Contents
If you have new materials to add to your Digital Sales Room, you can easily edit your shares. The best part is that the share link (URL) will stay the same, and the content in the Digital Sales Room will be automatically updated. This means you don't have to send a new link to the recipient. It's a convenient and hassle-free way to keep your Digital Sales Room up to date.
You have full control over your shares, allowing you to easily remove or add materials to the same share link throughout the entire buying process.


Analyze your Shared Contents
By tracking the recipients' interactions with the content in the Digital Sales Room, you can gather valuable analytics. This allows you to monitor their engagement and make informed decisions, such as adding more relevant content to further entice them.
As a user, you have the convenience of easily accessing the analytics you need directly from the Showell App. On the other hand, as an Admin, you have the ability to monitor the analytics of the whole account and make necessary updates to the materials.
You can receive email notifications whenever someone checks out your Digital Sales Room. This allows you to stay updated on the activity happening in your room and promptly follow up with interested prospects.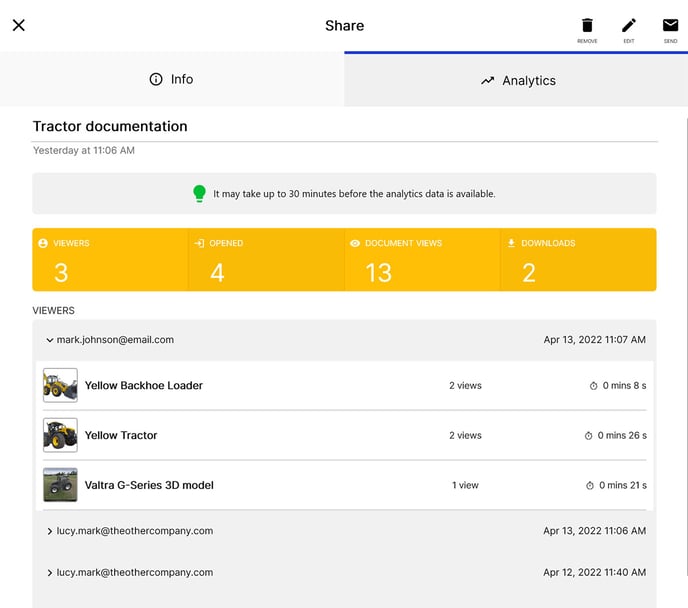 Viewers: Find out how many unique visitors have viewed your Digital Sales Room Shared contents
Opened: This will tell you how many times the Digital Sales Room has been opened
Documents Views: This metric shows the number of documents that have been opened within your Digital Sales Room.
Downloads: You will also receive information when a user downloads a file.
By accessing the analytics of individual viewers, you can see the specific content they have opened, the number of times they viewed it, and how long they spent on each document. This provides valuable insights into their interactions with your Digital Sales Room materials.
💡 FAQ
Are there any restrictions to the Digital Sales Room?
There is no limit to the number of Rooms you can create, and you can add content of any size. However, do note there are some restrictions for non-verified Free accounts.
Do recipients need to enter their email every time they open the Digital Sales Room?
The recipient's browser may remember their email from previous visits to the share (cookies), so they won't need to enter it every time. This is more convenient for them and allows you to continue receiving analytics on their interactions.
Can Showell make the Digital Sales Rooms into a concrete landing page?
The Digital Sales Room (DSR) can carry your domain name, but it will always be followed by the share URL itself ("subdomain.companyname.com/s/shareURL").
However, you can still use the DSR as a landing page the following way:
You can embed the DSR to your website
You can create a CTA button on your website that takes you to the DSR page
You can create a re-direct link from an existing landing page to the DSR. In this way the title can be searched from the web
Is it possible to modify the "DSR privacy policy text"?
Absolutely! You have the flexibility to customize the privacy policy text in the Digital Sales Room (DSR) according to your preferences. Additionally, you can even add multiple translations to cater to a wider audience. For more information and guidance on how to modify the privacy policy text, please reach out to Showell Support.
How do I change the Digital Sales Room language?
There is no need to! The language user interface (left menu bar and notifications) in the DSR is determined by the recipients own browser settings.
Can I change the Digital Sales Room link?
The Link itself can be customized with your own Domain. If you'd like to hide the link to your share, you can do so for example with the 'Insert link'-option available in your email application: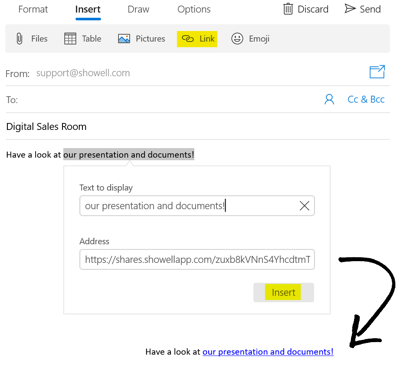 🔔 Troubleshooting
Why are shared links not opening in the Digital Sales Room?
If you have a non-verified Free Account, there are a few restrictions to the Digital Sales Room: For these accounts, links cannot be opened, files cannot be downloaded, and web content in the form of .html files cannot be opened. Contact Support, if you'd like to get verified or if you encounter this issue with a paid subscription.
Why can't files be downloaded from the Digital Sales Room?
There are a few reasons why you may be unable to download files:
You have a non-verified Free Account (See question above).
You haven't turned the 'Download'-toggle to ON: Make sure that, when creating the share, you select the files you'd like to make downloadable.
You have shared a My Presentation: A presentation created in Showell can contain a mix of different file types, such as images, videos, PDFs, and 3D objects. Due to this combination of files, it is currently not possible to download a My Presentation directly from the Digital Sales Room. However, we offer a workaround solution: you can convert your Presentation to a PDF format before sharing it. This PDF is downloadable from the Digital Sales Room.