The Digital Sales Room is a secure and custom branded webpage for your customers to view and interact with content that you've shared via Showell. Your shared content is all accessible online and ready to impact the receiver of your share.
Key features of Showell's Digital Sales Room (DSR)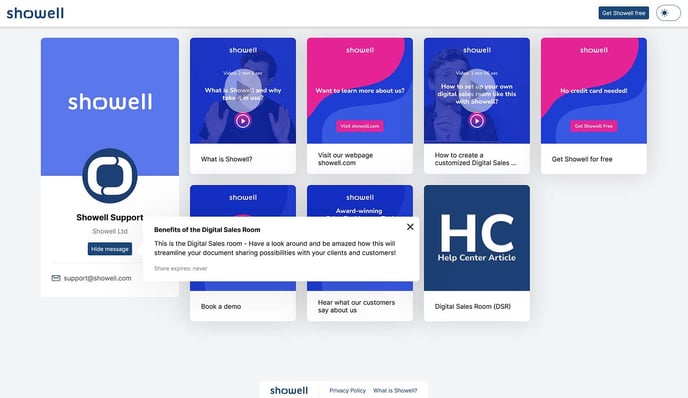 click the image above for a Digital Sales Room example
Share your presentations, documents, images, 3D files and/or folders
The DSR is personalized by:

Displaying your company logo and colors
Having the option to write a personalized message
Your own domain name! (additional feature)
For example: subdomain.companyname.com -> showell.acme.com, sales.acme.com, ...

Recipients simply open the shared link and can browse all content without needing to download anything!
Share your content easily with one or multiple recipients (no limit!)
You can open, browse and zoom on content, just like within the Showell App
Recipients can easily message back to the creator/sender of the share
Switch quickly between light and dark mode

Follow the analytics of your share and how the recipients have been browsing your shared content

To see activity tracking on your share - turn on the "Ask for email" toggle when creating your share.

Edited shares will keep the same share link (URL), the content in the DSR will be automatically updated. ➡️ No need to sent a new link to the recipient
✋Use case:
Upload material to the same share link for the entire buying process:
Add an intro "this is us" & "this is what to expect" video to your DSR

before

your meeting

Add content that was asked about or requested by the customer

during

your meeting

Add meeting notes, price lists, extra information after your meeting
From Analytics you can see what they have been viewing and then you can add more relevant content to entice more desired actions.
Upload the contract and any extra details to the same digital sales room when they've signed the deal
Add an onboarding "how to use" video to help them get started!
Ask for the recipients email:
➡️ It is recommended to keep this option on, for tracking the recipients activity on your share and seeing it's analytics
Set an expiration date
Set a secure PIN code:
➡️ Recommended when you share highly sensitive materials
Choose if the shared content can be downloaded or not
💡Note:
The language user interface (left menu bar and notifications) in the DSR is determined by the recipients own browser settings.
🔥 Coming Soon: Custom URL's for your shares! For example: shares.yourcompany.com
👉Tip:
Hide the link to your share, with the 'Insert link'-option available in your email application. For example: