My Shares is a menu located on the side menu. Share your content straight from the menu, or view, edit and re-share your previous shares.
Benefits of My Shares:
You are able to re-share or edit the share's content.
You get to see the analytics! this valuable tracking information helps you find out the level of interest your prospect/customer has for your shared content. Seeing what content is popular will help focus your attention on what is truly interesting and worth following up on.
When your share link is opened or downloaded, you will receive a notification email. Click here if you would like to disable this option.
---

How to:
More information:
How to find or create shares within 'My Shares'


Open the side menu
Select My Shares
A list of your shares appears

Active: This is a list of your active shares
All: This is a list of your active and inactive shares (expired shares)

Click on the ➕sign to create a new share
---

How to edit or remove your shares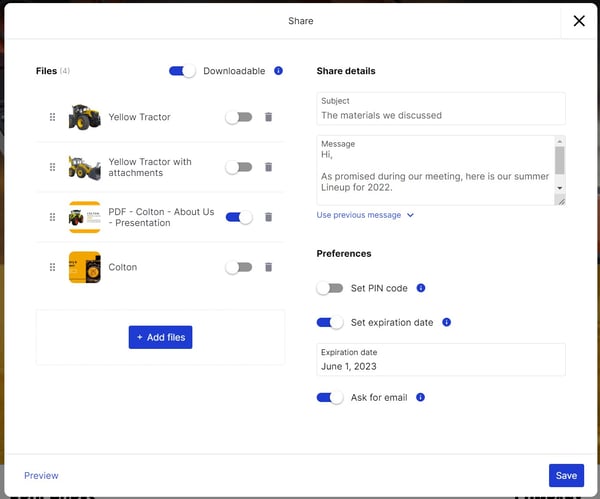 Open My Shares
Click the '3 dots' next to the share and click:


Remove: If you want to remove the share
Edit: If you want to edit the share
➡️ This pops up the same menu as when you create the share. You can adjust your subject, message, expiration date, files, PIN, email and download options. Once you are done editing you can click ✔️Save. The share will keep the same share link (URL), but the content in the DSR will be automatically updated. No need to sent a new link to the recipient
---

How to view and re-share your shares


Open 'My Shares'
Click the share you would like to view
This will pop up an informative screen that tells you all the share's details
➡️ This informs you also about files that have been removed from the Showell account and are not longer shared
If you'd like to re-share the link, you can simply click Copy link or Send