Showell app is very easy to use. Take a look at some basic controls and gestures!
Basic gestures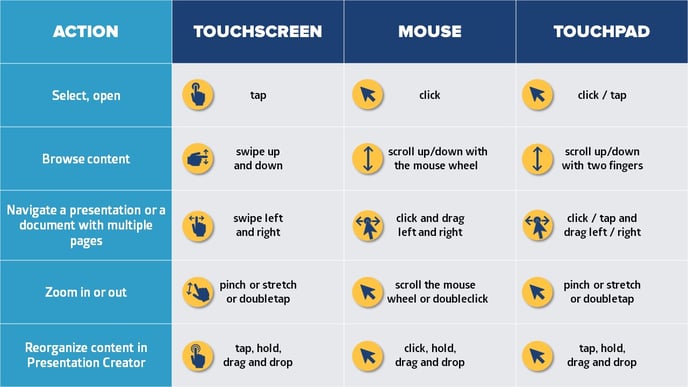 Your home screen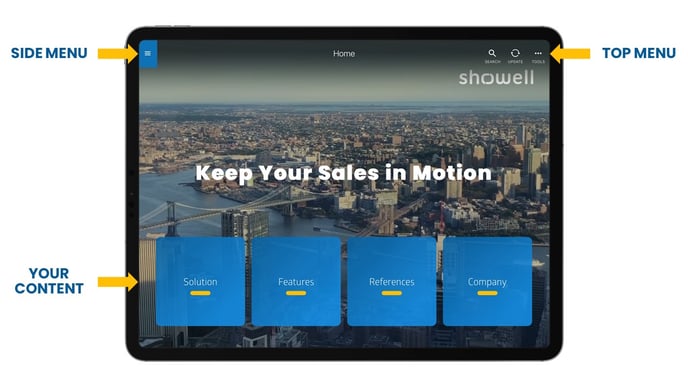 The side menu is located in the top left corner
The top menu is activated by clicking/tapping the top part of the app
Your sales/marketing material can be found by clicking on the content categories
How to navigate the Top and Side Menu
You can access the top menu by tapping or clicking the top of your screen. The top menu contains different features such as search, manual update and other tools.

If you access the top menu when you are viewing a file, you will find additional features and shortcuts.

The side menu is opened by tapping or clicking the tab with the three stripes on the top-left corner of your screen.
How to navigate your content structure
You can look for content in a couple of different ways:
From the home page:

Click on one of the buttons and see what content there is

From the side menu

Select Browse files to dive into your content hierarchy
Select Recent files to see what has been recently added or viewed
OR use the search to find the files you need
How to navigate a presentation
Browse through pages: Just swipe left and right
Zooming: Use the pinch gesture to zoom in and out
Go back: First tap the top of your screen, then the tab in the top left of the menu
If you are using a mouse on Windows
Clicking the top of your screen will open the Top Menu.
If you are viewing a presentation, navigation arrows will appear to the sides.

Use these arrows to navigate between pages.

You can zoom in and out by scrolling the mouse wheel or by pinching the touchpad.
You can also navigate between pages by clicking and dragging.
Setting up your preferences
Open the side menu
Select preferences

set up your profile picture
change your password
select the app language