Share files or folders to anyone's email address or share them a Share Center link with just a few clicks.
Important: You must have your email account configured in your devices' settings to be able to use the sharing via email functionality.
How to share files
Select the files that you'd like to share by checking the files' tickbox in it's top right corner
Select Share from the bottom menu
Add in all the necessary information
Select Share
Share Center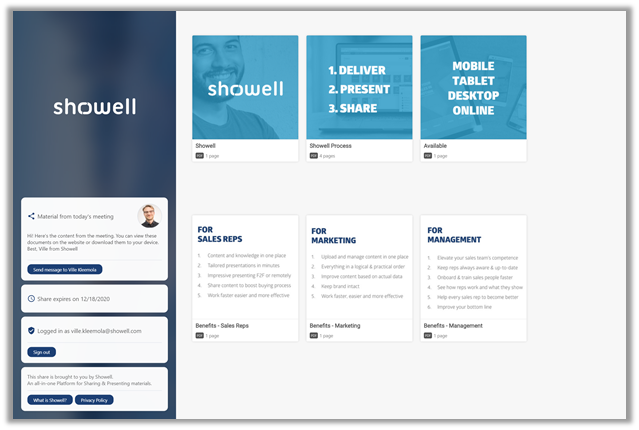 Your recipient will receive a link to the Share Center that has all your shared content.
It will display your colors and logo if you have already set them in Showell Admin's account settings page.
Content Share tracking
You get valuable tracking information that you can view via the Showell App My Share analytics or from the Admin panel Share Analytics about the level of interest of your prospect/customer has had for your shared content.
When your share link is opened, files have been viewed or when files are downloaded, you will receive separate email notifications (if your files have sharing permissions turned ON).
If you've asked for their email from the Advanced Sharing option, you will also see who has viewed your content.
Seeing what content is popular is a good indicator to follow up with the prospect/customer later on.

Tip: If a salesperson doesn't want to track their shares you can disable the notifications from them.
To disable Content Share Tracking
Go to Admin
Select the user who wishes to opt out of share tracking
Disable the notifications