Application resources can be found via Admin. This is where you store your background images and/or videos, logos and thumbnails.
Where to find the application resources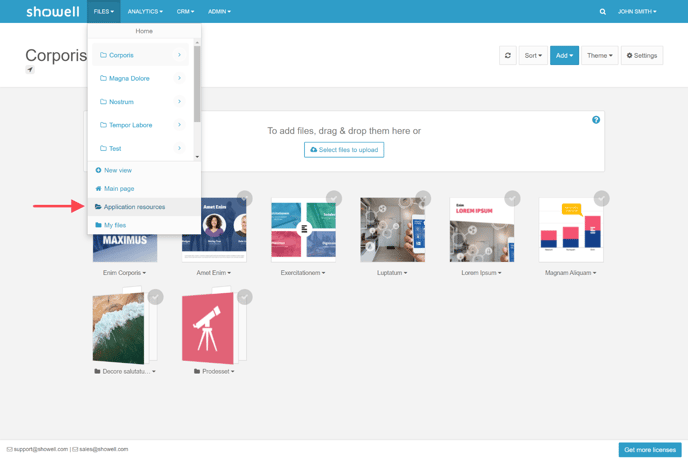 In Admin, open the Files menu
Select Application resources
Within app resources you'll find folders for your backgrounds, logos and thumbnails
Uploading your resources is just as easy as uploading your sales and marketing content
Simply drag and drop or select the files you wish to upload
Your files are now available in the background and thumbnail galleries.
You can now customize the visual look and feel of your account even further
Things to consider
Whenever a user downloads, installs and opens up their Showell app for the first time, Application resources are downloaded from the cloud to the device. The user will have to wait for those downloads before the account is fully operational. To make this process as smooth as possible you should only upload the background images and thumbnails that will be in use. You should also optimize the size of your files to ensure the best user experience to your sales reps. Especially if you're using Showell Online.
How to optimize your content:
We have a couple of guides that will help you with optimizing content for your Showell account. Take a look at the instructions below: