With Analytics you can identify trends on content usage, user activity and group performance in the past days, weeks, months or years.
Analytics walkthrough
Click on the Admin tab
Choose:

Overview for a dashboard that gives you a summary of the ongoing months activity.
Content for insights on document views, popular document types and search terms.
Users for insights on total and individual user activity
Groups for comparisons between various user groups
Events for information on how much different features have been used

Select the date range from the top right corner. Choose between this week, last 7 days. last 30 days, last 6 months, last 12 months or choose the desired dates from the calendar.
Terminology:
Time spent: Total duration of sessions.
Session: A session is a single usage session of the Showell app. A session starts when the app is opened and ends when the user logs out. If the app is open for a longer time, a new session starts every 3 hours.
Sessions: Total amount of individual sessions.
Shares: Total amount of documents the user has shared from the app.
Views: Total amount of document views. Does not take into account individual slides.
Trend: Shows a positive or a negative trend compared to an average month. An average month is calculated based on data from the previous six months.
Share downloads: Total amount of shared documents that have been downloaded by the recipient.
Analytics overview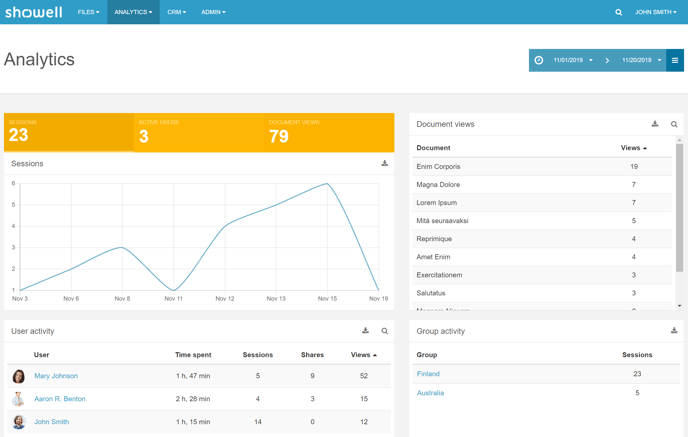 In the overview dashboard you can quickly get an overview on the activity of your organization.
Gain insights on sessions, document views, user activity and group activity.
Change the date range to compare activity in different time periods.
Content Analytics
Use the Content Analytics to identify which materials are most useful for your organization and which are used less often.
You can sort through your content based on document views, time spent viewing the content or the amount of downloads.
You can filter results by folder and document type for more in depth analysis.
All search terms used by your users to find content are shown here.
User Analytics
Use the User Analytics to see how much your users spend time using Showell, how many document shares they've made and how many times they've viewed your content.
You can also compare users to each other and view data on individual users.
See how the number of active users changes during your chosen time period.
Group Analytics
Use the Group Analytics to compare different groups to each other.
See the number of sessions and document views of each group during your selected time period.
Event Analytics
Use the Event Analytics to see which features are used by your users
See how the most commonly used features change during your chosen time period
With event analytics you get usage data e.g. on document and folder views, presentation creation, views and shares and searches.