Use the Event Analytics to see which Showell features are used by your users
📈Find out more analytics: Overview | Content | User | Group | Share
➡️Where can I find my account analytics?

💡Tips: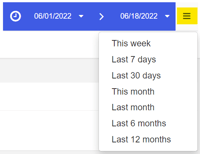 In the top right corner of every analytics page you can choose the exact time period OR click the 3 lines to quickly select the right time frame for your analytics.
Use the download button, available in most analytic sections, to get the information straight to your device in Excel (XLSX) file format.
Use the magnifying glass, available in most analytic sections, to quickly find the information you need.
Most of the column titles are clickable. This will sort the column's content alphabetically or numbers from high to low (click again to reverse the order).

It takes 2 to 4 hours before the analytics data is available.
---

💡Benefits of Event analytics:
With event analytics you get usage data e.g. on document and folder views, presentation creation, views and shares and searches.
You get to learn what features your account users truly like using with the Showell App.
If a feature is not used often, but could add great value for your users, you can provide additional training on these, so your account users are getting the most out of Showell.
Event analytics
Use the Event Analytics to see which features are used by your users and how the most commonly used features change during your chosen time period.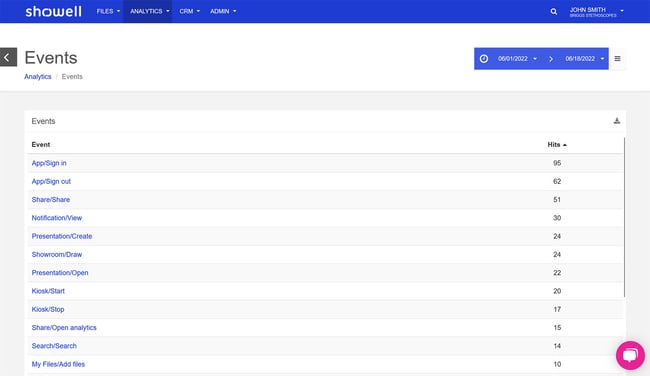 Event: Find a list of all used events/features by your account users

Every individual event is clickable; this will show the individual users who performed the event and the amount of hits. (amount of times the user performed the event).

Hits: Discover what event has been used the most/least by your users
✖️ Event Analytics is a Showell Admin Add-on. If you'd like to know more: