Quickly get an overview on the activity of your organization. Gain insights on sessions, document views, user activity and group activity.
💡Why?
Quickly see the most relevant data in a glance
Know how your account is being used and the activity of it's users and groups
4 difference Analytics

---

1. Sessions, Active users and document views


Sessions: (Click 'Sessions' to see its graph)


Find out how many times all your users have used the Showell account
By hovering the graph line, you can see the sessions for each individual day
Active Users: (Click 'Active Users' to see its graph)

Find out how many users have used Showell
By hovering the graph line, you can see how many users have been active on individual days
Document Views: (Click 'Document Views' to see the its graph)
Find out the total amount of documents viewed
By hovering the graph line, you can see the amount of documents viewed on an individual day


---

2. Document Views
Discover more in-depth what documents have been viewed most and their trend compared to the previous period. Identify which materials are most useful for your organization and which are used less often.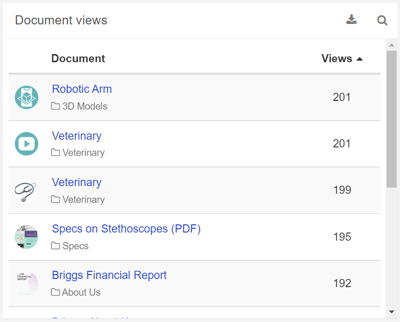 Document: A list of all your files


When clicking a file/document, you will be able to see it's individual content analytics

Views: Discover quickly how many times a file is used


---

3. User activity
Use the User Analytics to see how much your users spend time using Showell, how many document shares they've made and how many times they've viewed your content.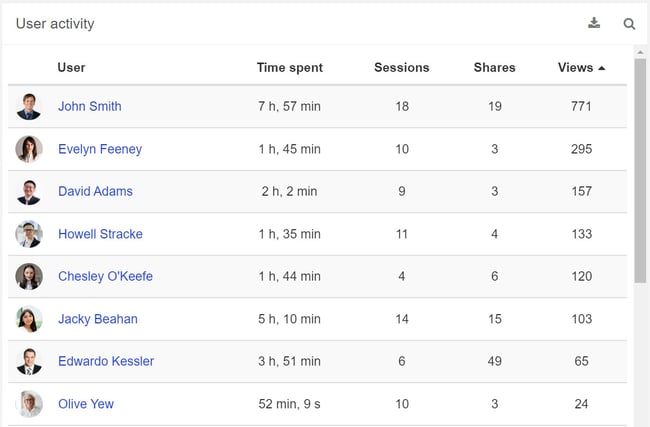 User: A list of all your active users (UUP)


When clicking a user's name, you will be able to see their individual user analytics

Time spent: Find out how long a user has spent time using Showell
Sessions: Find out how many times a user has logged in to Showell
Shares: Learn how many shares the user has created
Views: The amount of documents the user has watched


---

4. Group activity
Use the Group Analytics to compare different groups to each other.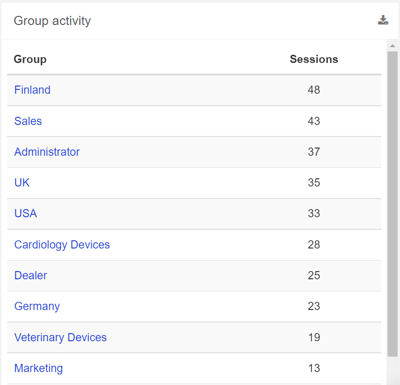 Group: You can click a group to discover it's individual group analytics
Sessions: The amount of times the group users have logged in to Showell
---
💡Tips: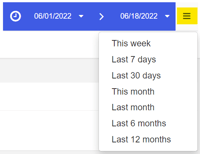 In the top right corner of every analytics page you can choose the exact time period OR click the 3 lines to quickly select the right time frame for your analytics.
Use the download button, available in most analytic sections, to get the information straight to your device in Excel (XLSX) file format.
Use the magnifying glass, available in most analytic sections, to quickly find the information you need.
Documents marked with Private are part of the user's My Files.
Most of the column titles are clickable. This will sort the column's content alphabetically or numbers from high to low (click again to reverse the order).

User pseudonymization is an optional feature that keeps the user anonymous. However, you can still track all the activity. Certain countries privacy laws apply restrictions upon tracking user activity. Therefor we made it possible to apply pseudonymization for the account users. If you'd like to activate this option: please contact your Showell contact person or Showell Support.
⚠️If this optional feature is activated: Analytics that become Unavailable due to User Pseudonymization will be marked in this article with (UUP)

It takes 2 to 4 hours before the analytics data is available.