Create user accounts for all your sales reps, marketers and anyone needing access to your sales materials. View user info and give individual permissions to what content can be accessed.
How to add users
Showell simplifies the process of creating user accounts for individuals who need access. As an Admin, you have the ability to create and edit user accounts, provide additional details, assign them to groups, manage licenses, and more.
Additionally, Showell offers the option to Invite Users, allowing them to set up their own credentials. This provides flexibility and convenience for users.

1. In Showell Admin, click 'Admin' in the top menu bar > Click Users
2. In the top right, click ➕New user
3. Click Done to create the user
Make sure to notify the user that they have now access to Showell and provide them with their username and password, We recommend to encourage the user to change their password.

If you want to remove a user:
1. Click a user's name
2. Click on the 'X Delete'-button in the top right corner of the user's settings page. You will be prompted with a warning if you are sure to delete the user
3. Click Delete user
---


How to manage user settings
You are able to find and edit the user's information and settings.
In Showell Admin, click 'Admin' in the top menu bar > Click Users > Click a user's name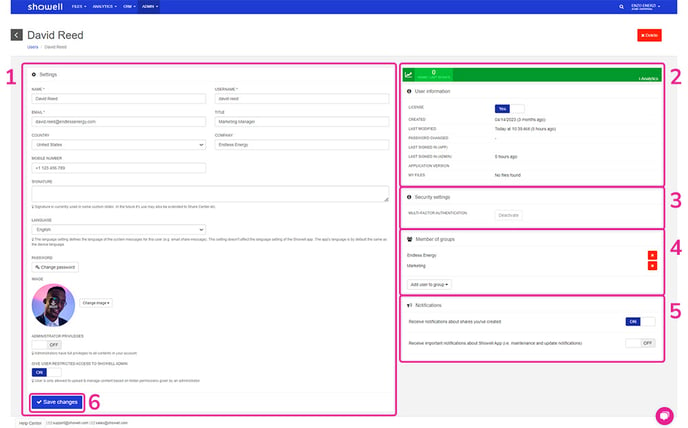 1. Settings
Here you are able to edit the users settings, such as the user's name, username, email, title, mobile number, country, company, signature, email notification language, password and profile picture.
Additionally, you can choose the user's Role: User, 'User with restricted access to Showell Admin' or Admin
Remember to click on the 'Save Changes'-button (6) once you have finished editing the user settings.
2. User information
This tab includes: User Analytics, License Control, Multiple Account Access, Account Creation and Modification, Last Sign-In Details, Device and Showell Version, and access to the users My Files.
3. Security Settings
If the user has enabled Multi-Factor Authentication (MFA), you'll be able to see it here, and deactivate if necessary.
4. Member of Groups
Quickly find out what groups the user belongs to. Click here for more information on how to add or remove users from groups.
5. Notifications
Choose user notification preferences for shares and important Showell App notifications.
---


Filter, sort and bulk manage your users
Currently this feature is available with Users (Beta):
In Showell Admin, click 'Admin' in the top menu bar > Click Users (Beta)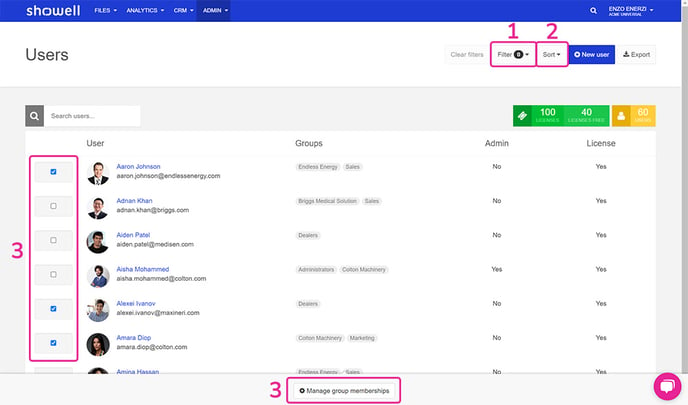 1. Filter your users according to License, Role, Creation date, Multi-Factor Authentication, Groups or Country
2. Sort your users alphabetically or join date
3. Multi-Select users and add them to groups
💡 FAQ

Can I disable a user, instead of removing the user account?
If a user is just temporarily inactive and you do not want to delete the user, you can always choose to turn the license off.
🔔 Troubleshooting

Why am I unable to add a user?
Every user takes up a license. Make sure you have enough licenses available.
Why do I get a "This user already exists" error message, when creating a user?
Many users have access to multiple Showell Accounts, which means they may have already signed up with Showell using the same username and email address you are trying to create a user account with. This can occur if they have created a free Showell account for themselves or if they are also affiliated with another company as a dealer. Therefore, it is not possible to create a new user account for a user, as they already exists on the platform.
To solve this issue, you can invite the already existing user(s) to your account using the User Invitation feature. When the invite receiver opens the invitation, they should choose 'Sign in' and use their existing credentials. This way, they will be able to gain access to both accounts.
If the user you'd like to invite has access with a Single Sign-On (SSO), Please make contact with your company IT or contact Showell Support.