Managing your content is a breeze with the create folders, upload files and content management options.
✋Discover how to:
💡Note:
These features are currently only available for Administrators using the Showell Online App
These features are available for everyone on every device, using My Files.
It is not possible to add folders/files or make changes to the homepage.
How to create folders and/or upload files


Navigate to the view or folder where you would like to add new folders and/or files.
Click the ➕plus in the bottom right corner
Click on 'Add Folder' to add a new folder.
Click on 'Add File' to add a new file.
Click on ''Add a web link' to add a link to a website
---
How to upload files/folders using the drag-and-drop feature



Simply drag your content into the location you want to place it:
💡The drop location will become blue tinted and inform you about the content being added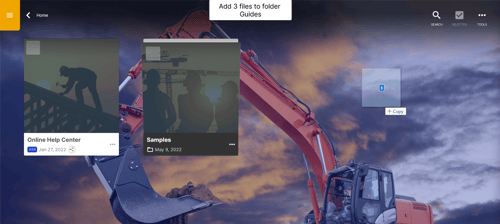 You can drag and drop multiple files at once
You can include folders and sub-folders
You can continue navigating while your content is being uploaded in the background
You can also drag and drop straight into a specific folder: simply hover over the folder you'd like to place the content in.



---
How to manage your folders and files

Clicking the 3 dots under each file or folder, gives you the following options:
Rename your file or folder
Move your files or folders around and create an organized structure
Remove your files or folders if you have no need for them any more
Copy your files or folders, this can be handy if you wish to edit your files, but keep an original.
Tips:
All content that is added/edited this way will be visible for all the users of your Showell account.
If you have a lot of content to upload and organize, you can neatly do so with Showell Admin.
These options are available on all platforms and for everyone, when using My Files!