If you'd like to upgrade your subscription, you can do so from within the Showell App
I'd like to upgrade to the Essential Plan
This article will guide you through the process of upgrading your plan from Freemium to Essential using the Showell App for Web. Additionally, you have the option to upgrade to Essential from our Pricing page or by contacting Showell Sales.

1. Login to the Showell App for Web, using your credentials.
2. Open up the side menu, and click the 'Upgrade subscription'-button.
3. A pop-up window will open: This is where you can set your preferred currency, billing frequency (monthly or annually), and amount of User licenses you wish to purchase.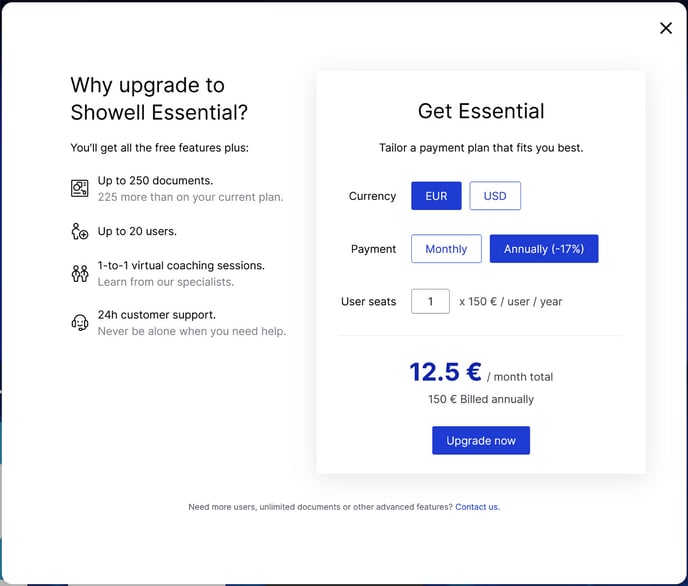 4. Click 'Upgrade now' to see a summary of your order.
If you'd like, you can still edit the quantity of user licenses.
If you have a valid coupon available, you can add it here as well.
5. Click 'Proceed to Checkout'
6. Add your billing address and click 'Next' > Add your payment details and click 'Next'
7. You will see the final confirmation to complete your order.
You can still apply a valid coupon
You can still edit your Account, Billing or Payment information
8. Click 'Pay amount & subscribe'. You may be redirected to your bank page for 3D secure verification.
9. Congratulations, you have now successfully upgraded your plan! Click Continue to start using Showell.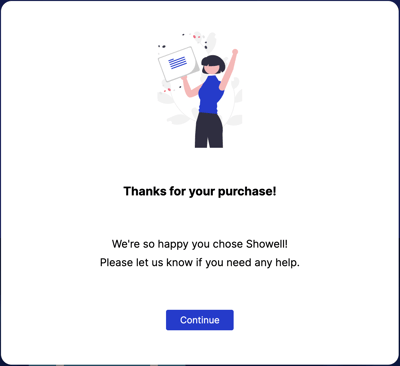 ---

I'd like to upgrade to the Professional Plan
The Profession plan is a personal tailored solution for your needs. Our Sales and CS team are ready to support you and your company by providing help with setting up your account, and guidance during the whole onboarding process.
Feel free to book a personalized 30 minute guided tour to learn more about all the benefits Showell and our Professional plan has to offer.

Here's how to upgrade:
💡 FAQ

What are the benefits of upgrading my subscription?
Upgrading your subscription offers a wide range of advantages! Take a look at our pricing to get a comprehensive overview and make a comparison to find the subscription that best suits your needs.