You can now use your device as a remote control to present your Showell content on a fixed screen using the screen mirroring option.
💡Note: This feature is currently only available using the iPad connected to a fixed screen with a HDMI cable connection, or wireless using Apple Airplay.
For more information on how to connect your device:
Optimize content for screen mirroring
This feature enables the user to have full access to Showell on their device, but only showcases the materials on the connected screen, meaning there are no distractions when you present your content (no side or top menu visible)!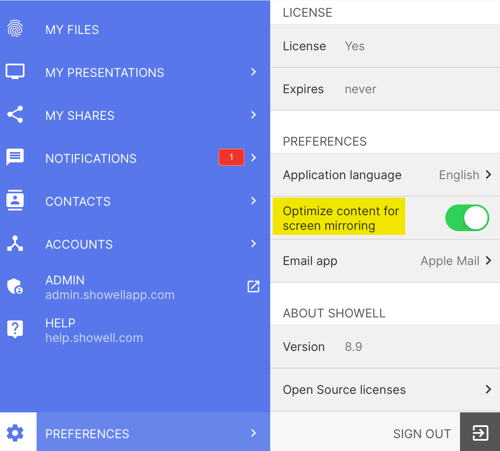 This option is ON by default, if you wish to turn it OFF and present Showell fully (including the side and top menu and how you navigate):
Go to the side menu and click Preferences

Toggle the 'Optimize content for screen mirroring' to OFF
Note: Videos will only be visible on the fixed screen. However, you are able to use the play,pause, forward and back buttons using your own device.
Pause and Play
While you are presenting your content and you quickly have to make an adjustment or find other materials, you can simply hit Pause so your actions will not be visible on the fixed screen. Hit Play and you can continue your presentation!
To use the Pause and Play option:
Go to the top right corner of the top menu bar
Click Tools
Choose Pause or Play